I've been shooting a lot the past several weeks and editing a lot. I am working hard and as fast as I can to post on my blog. I have so much tell you and show you. A lot of exciting stuff!

Today, I want to tell you about Ashlee and Alan's picturesque wedding at The Old Santee Canal Park in Moncks Corner, South Carolina.

I was pretty nervous leading up to her "bridal portrait session day" and the wedding day! I really wanted to do a good job because she really deserves the very best photographs. Well, I didn't really have to work too hard with Ashlee and Alan. If you remember their e-session, the two of them looked fantastic. So on wedding day, I just did what I do best- take pictures.

It rained a little. Lynn (mother of the bride) was nervous and stressed. But it cleared shortly before the scheduled "start time". And then it was nice and mom and everyone else were happy 🙂

To Ashlee and Alan and Lynn- thank you so much for giving me the opportunity to be a part of your special day. You have a beautiful family and group of friends and the whole experience was just amazing. You guys were the easiest people to work with. I am soooo grateful that I played a part in your wedding to help you remember it forever. I wish you guys many blessings and much love.

The highlights…
I love this shot. So dramatic. So beautiful . . .
Ashlee looking hot!
Beautiful cupcake cake 🙂
A picturesque view at the Santee Canal Park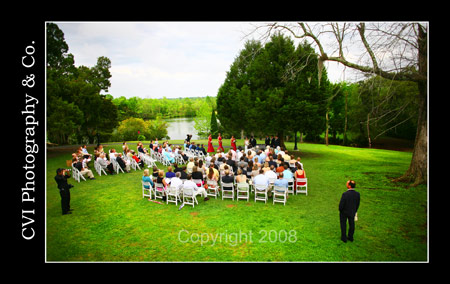 Ashlee and Alan. I love this picture.
Playful. I love this one of Ashlee.
I think I am going to stop writing now and let the images speak for themselves…
pretending to work 🙂 thanks Jamie for this goofy picture of me
Sharing some tricks to Sarah- my sidekick, thanks again Jamie. I am going to get you next time.
I'm like a Ninja- now you see me, now you don't 🙂
For the slideshow- click aqui
Up next, I'll post a few of Ashlee's bridal portraits
Feliz Cinco de Mayo, everyone!
– Virgil Bunao
Charleston Wedding Photographer
keywords: Old Santee Canal Park, Moncks Corner, weddings, charleston wedding photographer, photojournalist, documentary