This wedding between Kristin and Clarke was an absolute joy to work and I am so blessed to have had the opportunity. Enjoy some words from the bride below.
While attending the University of South Carolina, we were set up by mutual friends on a blind date for an event. Upon meeting Clarke, I was immediately smitten by his charm and easy-going attitude. I just remember how quickly we connected, it felt like I had known him my whole life. The blind date worked out perfectly and we ended up talking and talking like we had known each other for years. The next week just so happened to be our spring break and we were both going to be in Charleston at the same time, so we went on a date! Our date in Charleston was beyond perfect and every bit romantic. After dinner we ended up taking a long stroll down from King Street to the Battery-were we shared our first kiss. Little did I know, 8 years later, Clarke would propose right at the same spot.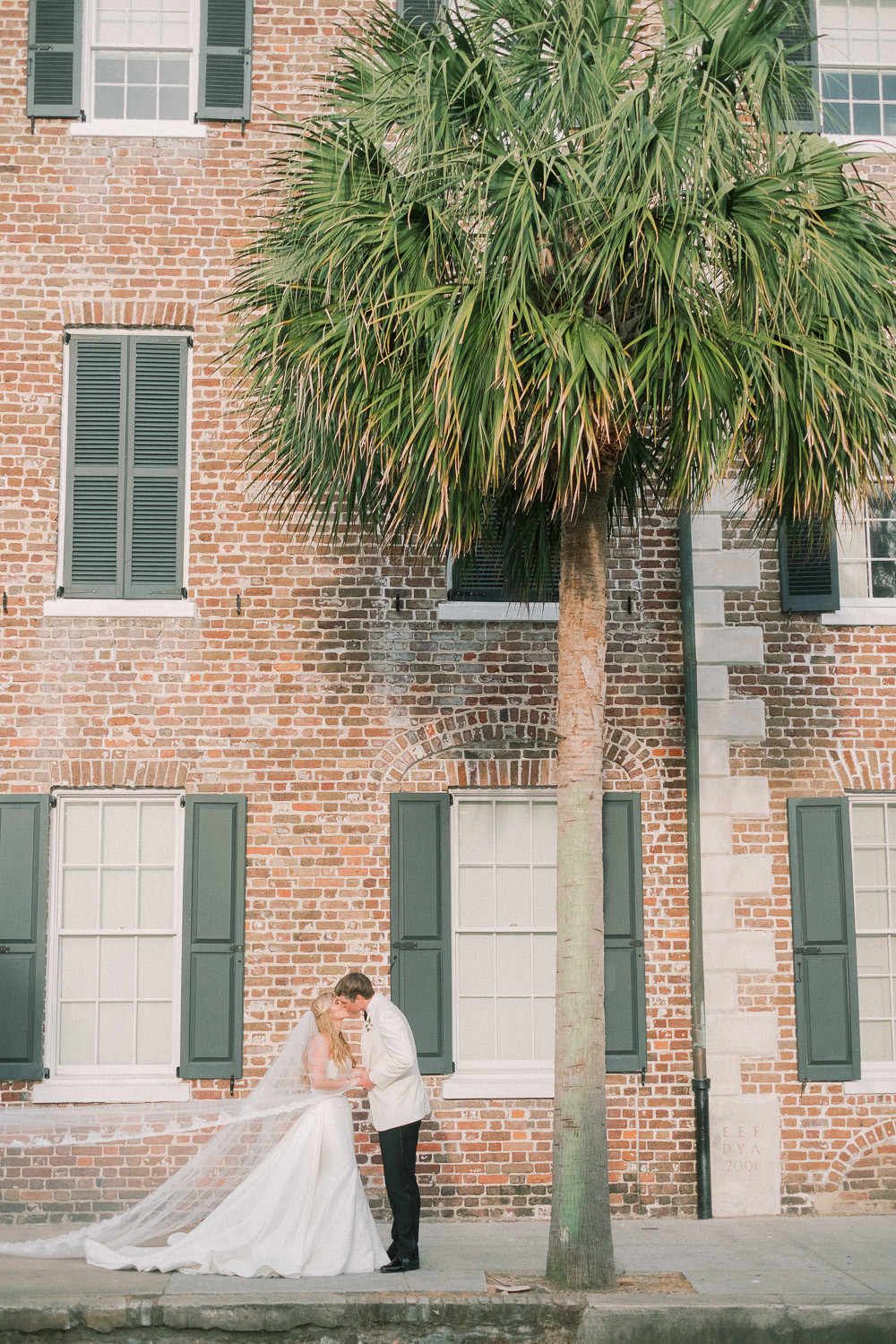 The engagement came as a 1,000% surprise. I had just finished a long day of work when Clarke asked if I wanted to hop on the boat after work to enjoy a relaxing sunset cruise, I happily obliged. When we started getting close to the Battery I asked Clarke to take pictures of our dogs and I on the bow of the boat. Clarke was snapping pictures when all the sudden he reached down in one of the boat overhead compartments and said, "you need one more thing for the picture." He came from behind the steering wheel and got down on one knee and asked me to marry him. I nearly fell off the front of the boat from excitement and utter surprise! The BEST part of the story was that while Clarke was proposing, he got so nervous that he forgot to place the boat in neutral. So while he was down on one knee, the boat was idling towards the sea wall! Luckily, Clarke has pre-planned for a couple of our friends to take pictures of the whole proposal on land so they were yelling from the shore to turn the boat around! He quickly realized this and jumped back behind the wheel and all was good. It was the best moment of my life thus far (aside from the wedding day!) and a beautiful, beautiful moment that we'll both never forget.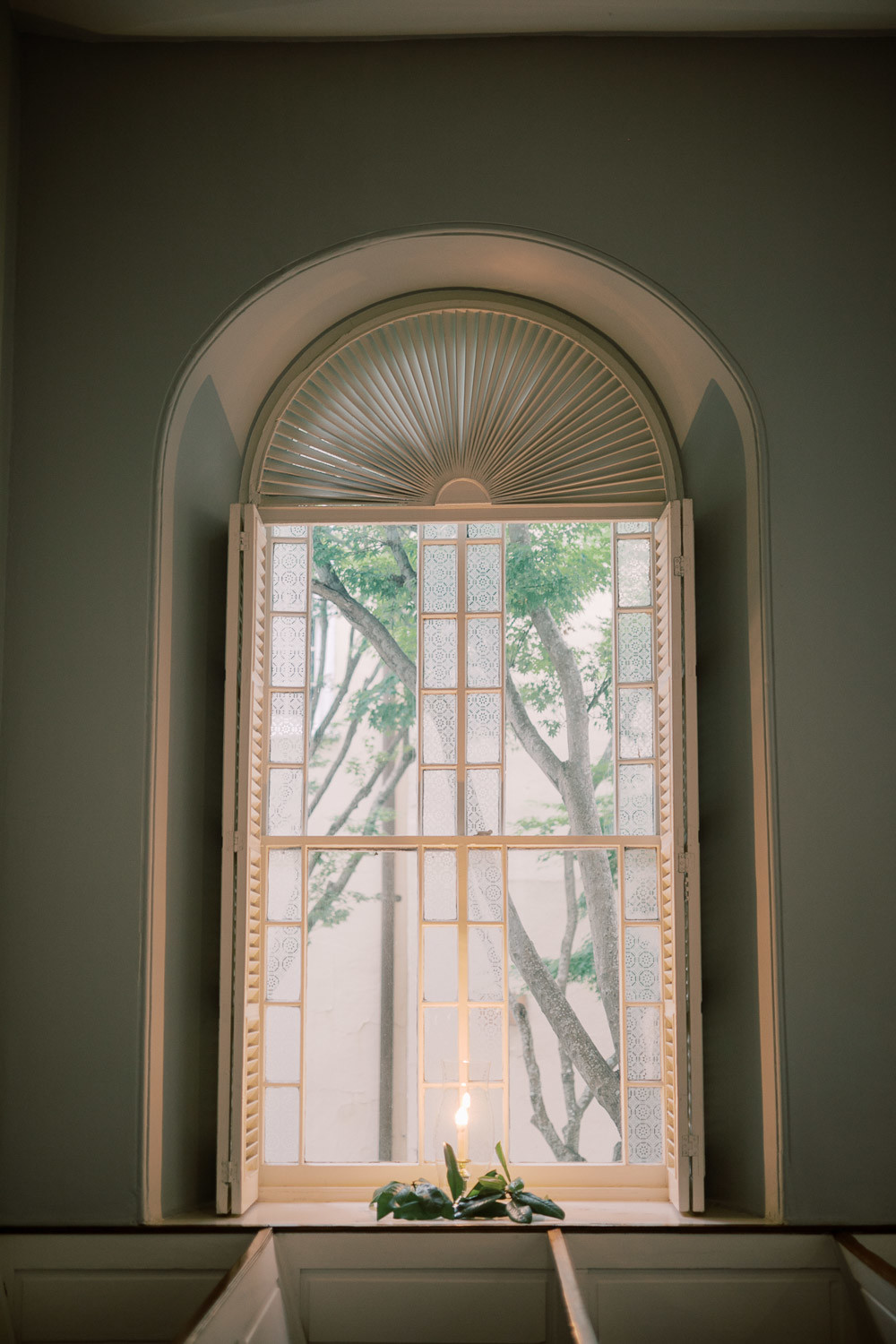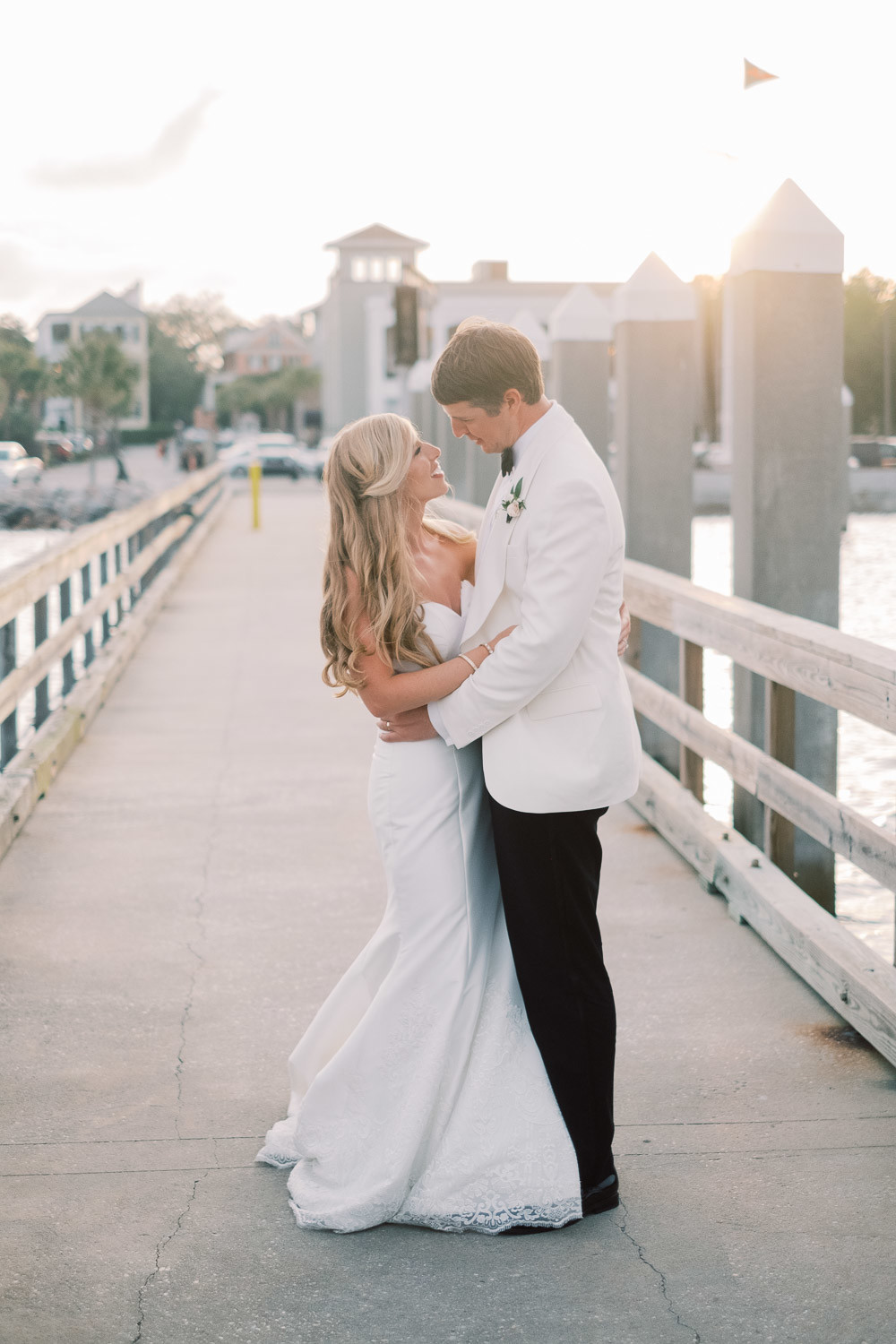 Our inspiration for our wedding echoed both of our upbringings on the water and our love for travel. I grew up on Lake Wylie, South Carolina where I learned to ski before I could walk. Clarke, an avid fisherman, grew up on the Charleston waterways. Therefore, we drew inspiration from the simple elegance and charm being located on the water affords, as well as our experiences from traveling all over the world. We really fell in love with the Yacht Club's unparalleled views of both the Charleston Harbor and steepled skyline of historic downtown. The upstairs ballroom allowed us to have both indoor and outdoor capabilities and the private dock set itself up to be the perfect setting to leave via boat! My aesthetic is more traditional with a few surprise and delight elements thrown in. I love unexpected, timeless elegance and have always believed that small details make all the difference. To achieve the look we pulled in a lot of graceful details from nature. We added lots of natural greenery and a balanced color scheme of green, gray and neutral tones. We also included a lot of warmth by adding an array of over 1,000 candles that illuminated the entire reception room.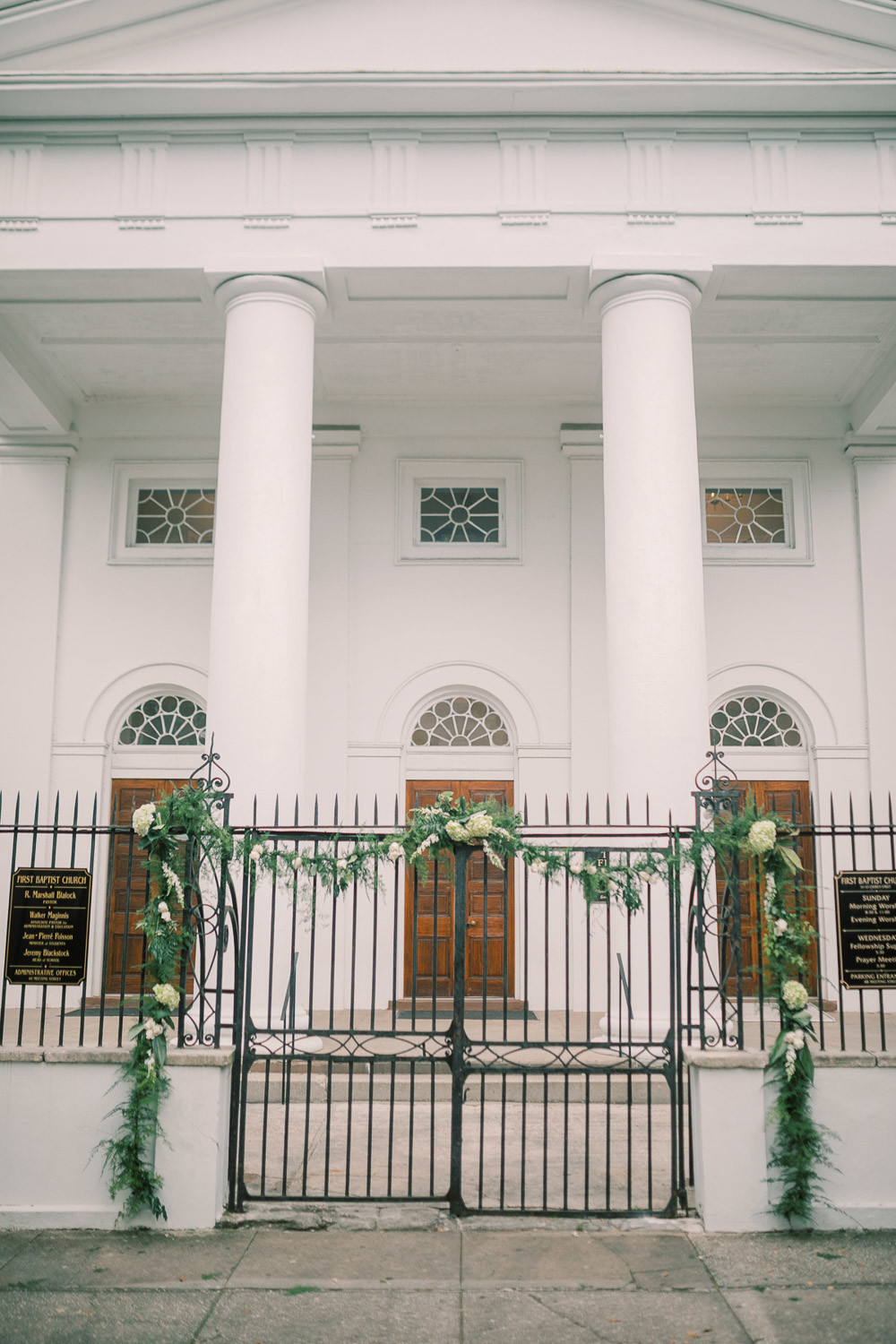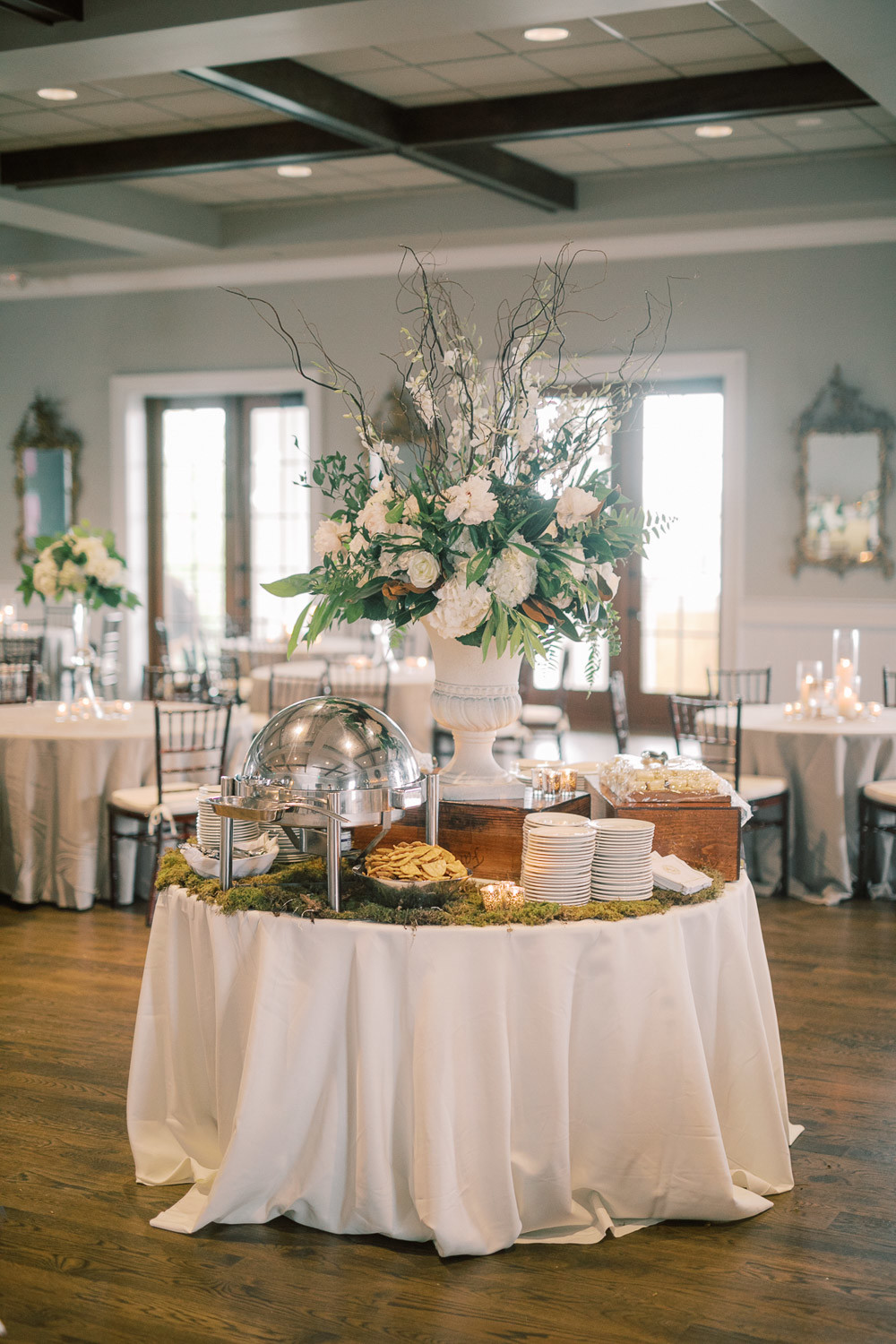 The planning experience was one of my favorite parts! My Mom and I planned almost every aspect of the wedding. Every Wednesday we had a 'Wednesday Wedding Wishes' conference call to chat all things details & decor! When it came closer the wedding date, it was important for me to bring someone in to help with the overall logistics and day-of coordination. So luckily, a close friend recommended Anne Kate with Parté Events and Design and she helped to connect all the dots and made sure our wedding day went seamlessly. Clarke and I got married at The First Baptist of Charleston, SC – the oldest Baptist Church in the South. We both wanted a traditional ceremony and had been attending church at FBC before getting engaged, so choosing to get married here for our wedding was something we both really wanted. Clarke and I originally wanted to have our reception outside, with a venue on the water as top of the list. Therefore, The Carolina Yacht Club served as a perfect location allowing us to blend being right on the Charleston Harbor and also host our large number of wedding guests. Another thing we loved about both locations/sites was how close they were in proximity to each other. And since both locations offered parking, all our guests were invited to join a lively wedding stroll after the ceremony with both Clarke and I through Longitude Lane, a historic and picturesque alley between the two venue spots. The wedding stroll was led by a trumpeter who played "Oh Happy Day" as our entire wedding party and guests followed us, waving custom-made-ribbon wands on our way to our reception to enjoy celebratory sips during cocktail hour! It's funny looking back how the church and reception venue were both located steps away from where we shared our first kiss, our engagement, and eventually our wedding! Funny how things come full circle!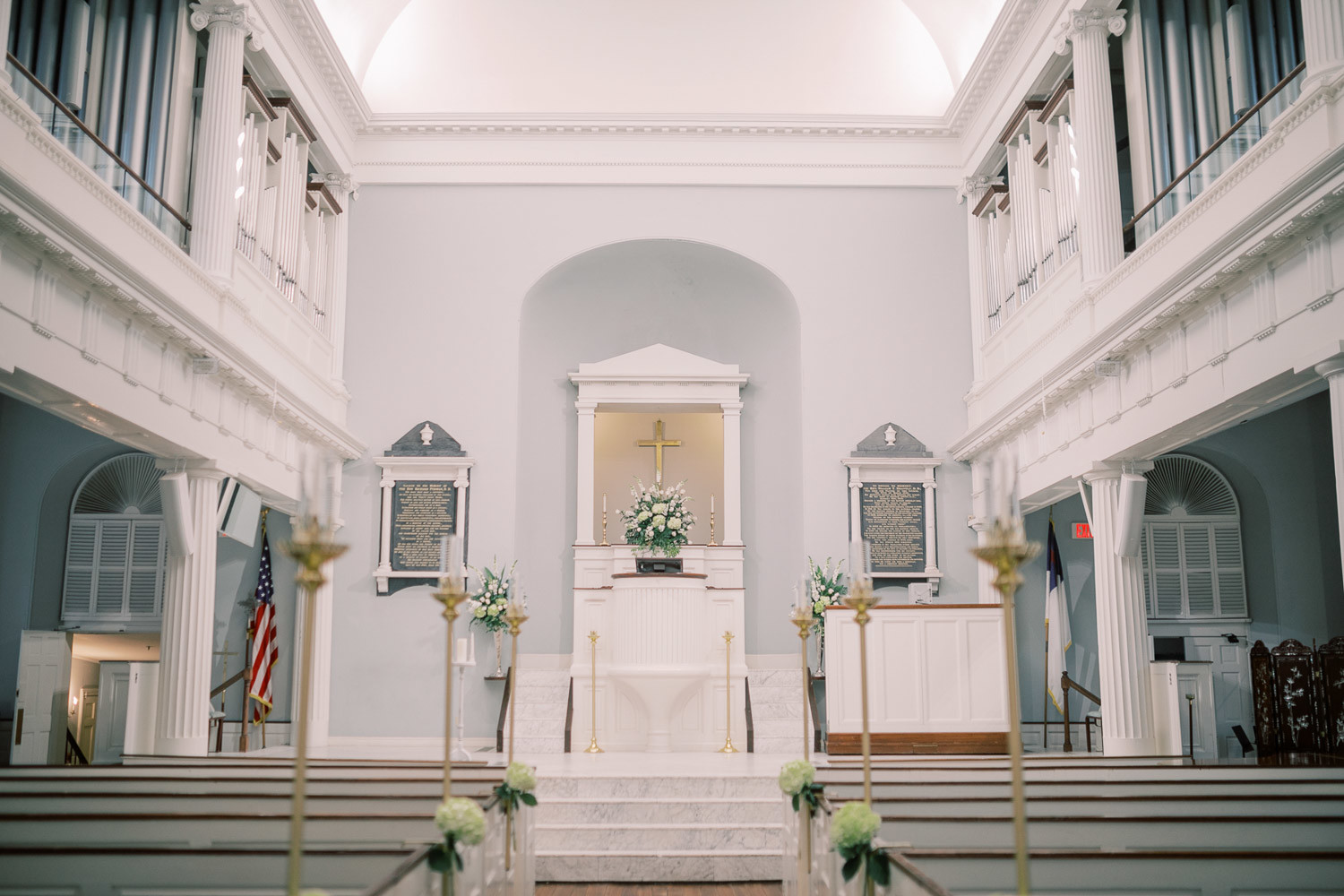 Our colors were Charleston Green, Antique Gold, soft neutral grey, and romantic ivory. Charleston green served as our signature color for our wedding, a shade of green that almost looks black. This color worked as a perfect neutral color and added a softer element to our overall traditional style. Rather than going with a standard black and white look found at most formal affairs, we chose this slightly different color. My bridesmaids wore Charleston green colored dresses and various shades of this deep green were featured throughout various floral installs: the grand entrance at the Yacht Club, greenery and floral installs on the church's iron gate, greenery for the hanging cake at the reception, and a custom moss table. Antique gold served as an accent color and pops of gray and ivory were also featured throughout.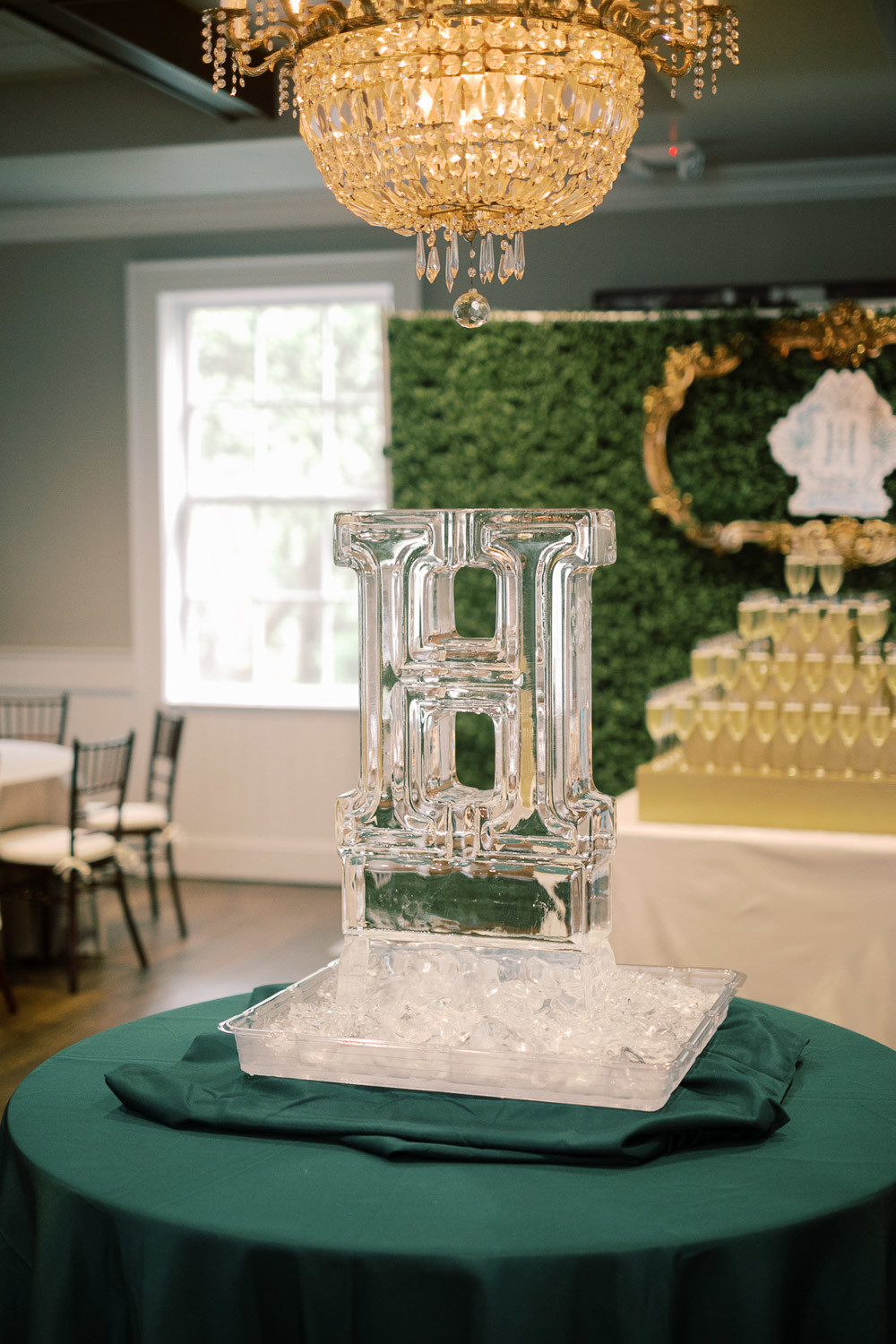 I commissioned local artist Markey Mossman of Hatch Cove Designs to create a custom illustrated wedding crest. The crest featured elements and designs from both of our lives and significant moments throughout our 8 year relationship. Some details included:
-White Camellia flower, the state flower of Alabama where I was born.
-A crown to represent my upbringing in Charlotte, NC, the queen city.
-Sabal palms to represent Clarke's hometown of Mount Pleasant, SC.
-Spider Lily Flower which represent a funny date story we had kayaking down the Catawba river to see the Spider Lilies bloom.
-Two Pendant Nautical Flags: One with my initials inside and Clarke's in another.
-Our future married monogram.
-Charleston, SC coordinates 2.7765° N, 79.9311° W.
-Our Wedding Date (May 4th, 2019)
-Charleston style gate to replicate the iron gates at First Baptist.
Going into the wedding planning process, Clarke and I knew we were going to have a big bridal party. We both feel very fortunate to have strong friendships from all walks of life -some starting from even as early as pre-school days- so we didn't blink twice at having a combined bridal party size of 40! It made the day all that more lively and fun! We both wouldn't have had it any other way. The only issue was finding a place large enough for me and my bridesmaids to get ready and finding a bridesmaid's dress that would compliment everyone's look! Therefore, my mom and I spent a great deal of time researching locations big enough to fit my bridesmaids. The newly renovated Society Hall, which is located only a block from the church, ended up having the Saturday open so we booked it! It truly couldn't have been more perfect! This venue is normally a site suited for a wedding reception in itself, but it was the perfect place to spend the day getting ready. Everyone had ample space, and the historic details (from the floor-to-ceiling windows to crystal chandeliers) served as beautiful backdrops for photos!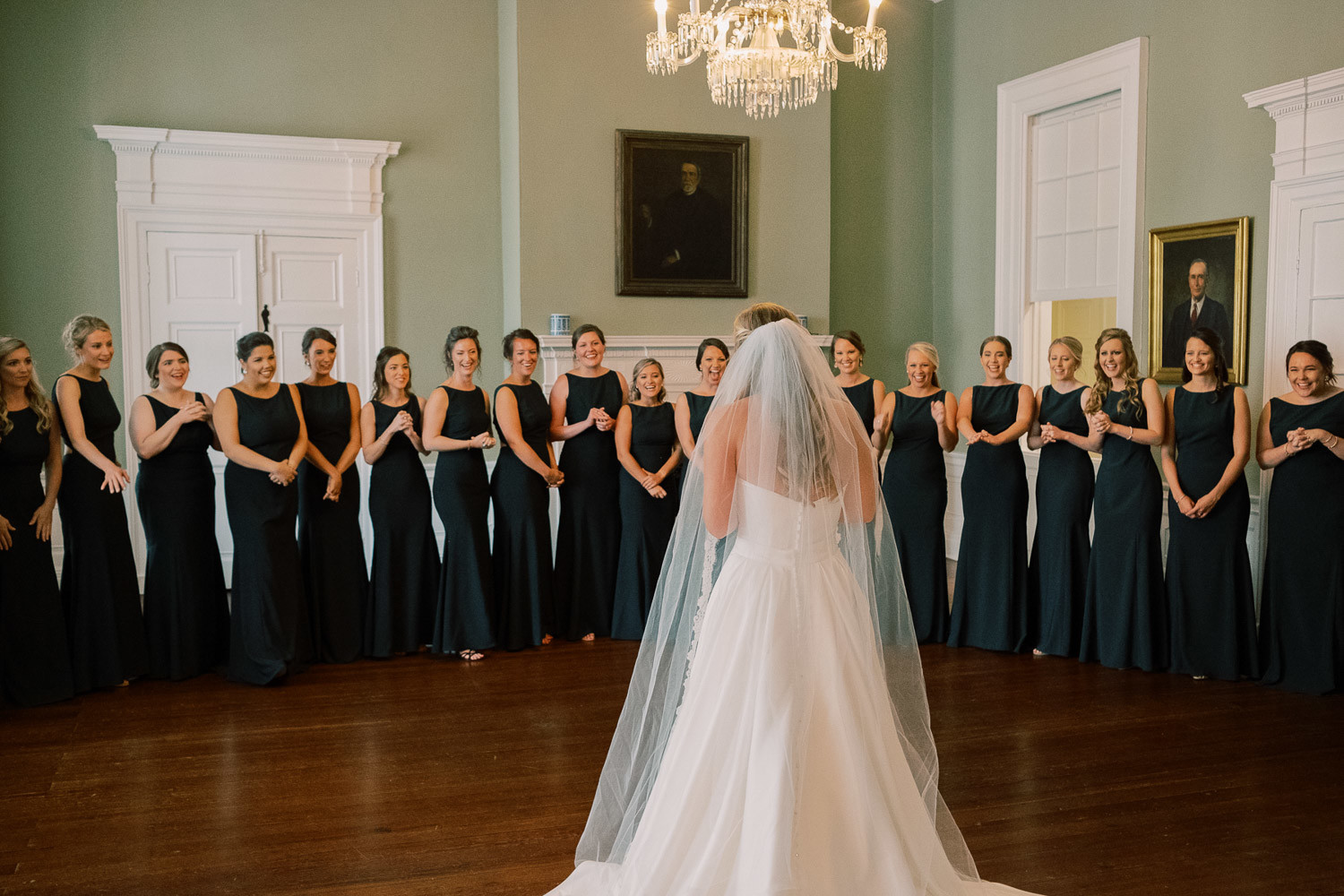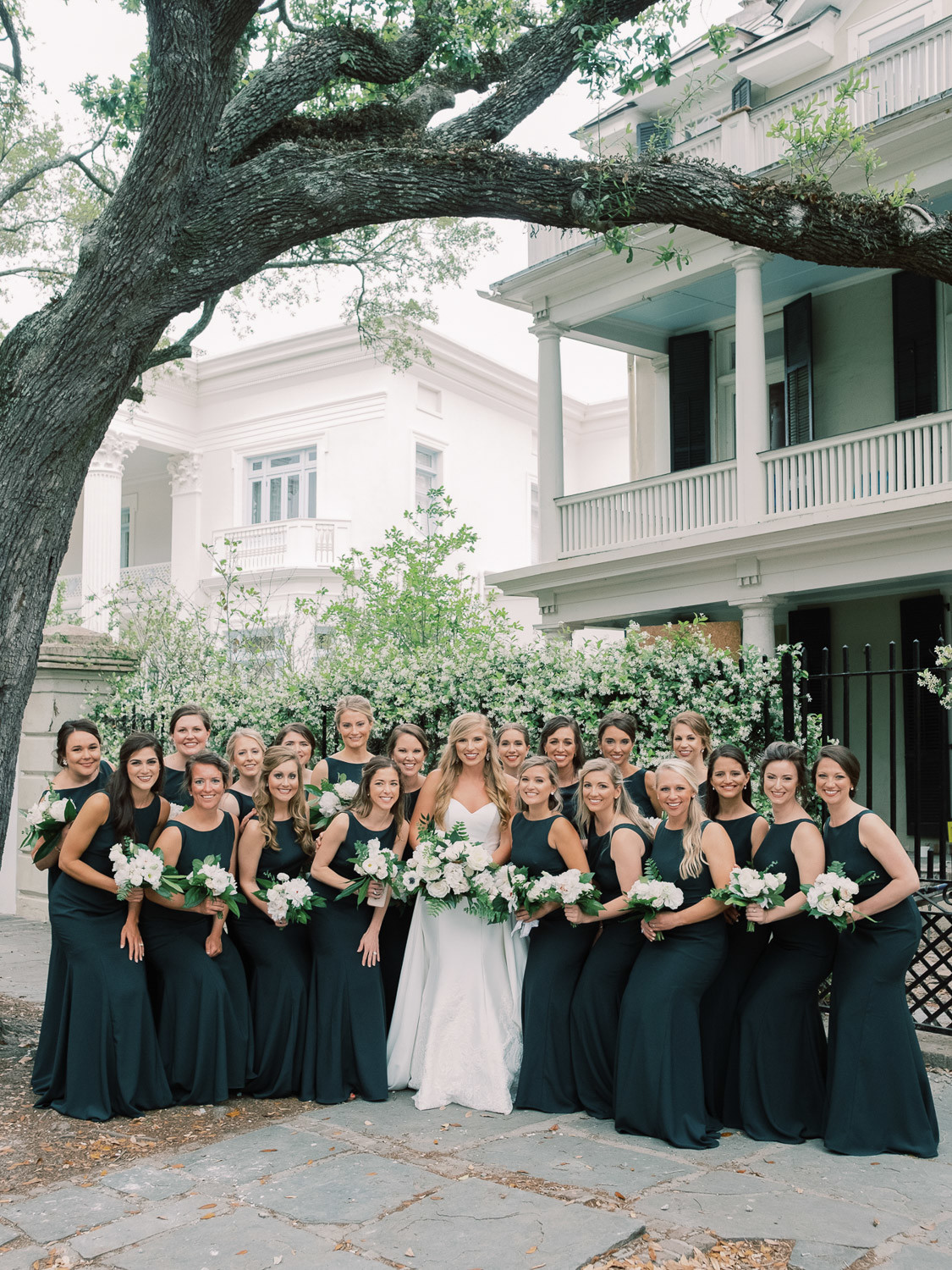 Who knows if it was my lack of decision making or because I enjoyed trying on beautiful white dresses, but I spent a good 6 + months selecting a wedding dress. I'm pretty sure my mom's phone had over 70 + pictures of different dresses I tried on! I kept the fittings special with only my mom– she has impeccable style and I fully trust her opinion. We had so much together and looking back, it was probably one of my favorite moments of wedding planning.
I kept going back and forth, between a ballgown and fit and flare styles, which are complete opposite silhouettes, and I also knew I didn't want to have two dresses – one for the reception and one for the ceremony, so in the end, I knew I was going to have to go with something custom. The solution ended up working with the dress designer, Allure Bridal to design a custom detachable train and skirt overlay that fit over a sweetheart strapless fit and flare gown made out of silk mikado. The dress had a whisper of lace accents at the bottom, so to make the skirt overlay match with the same details, we ordered additional yards of lace. I ended up removing the ballgown skirt before the reception to make it extra easy to spend the evening twirling and dancing the night away!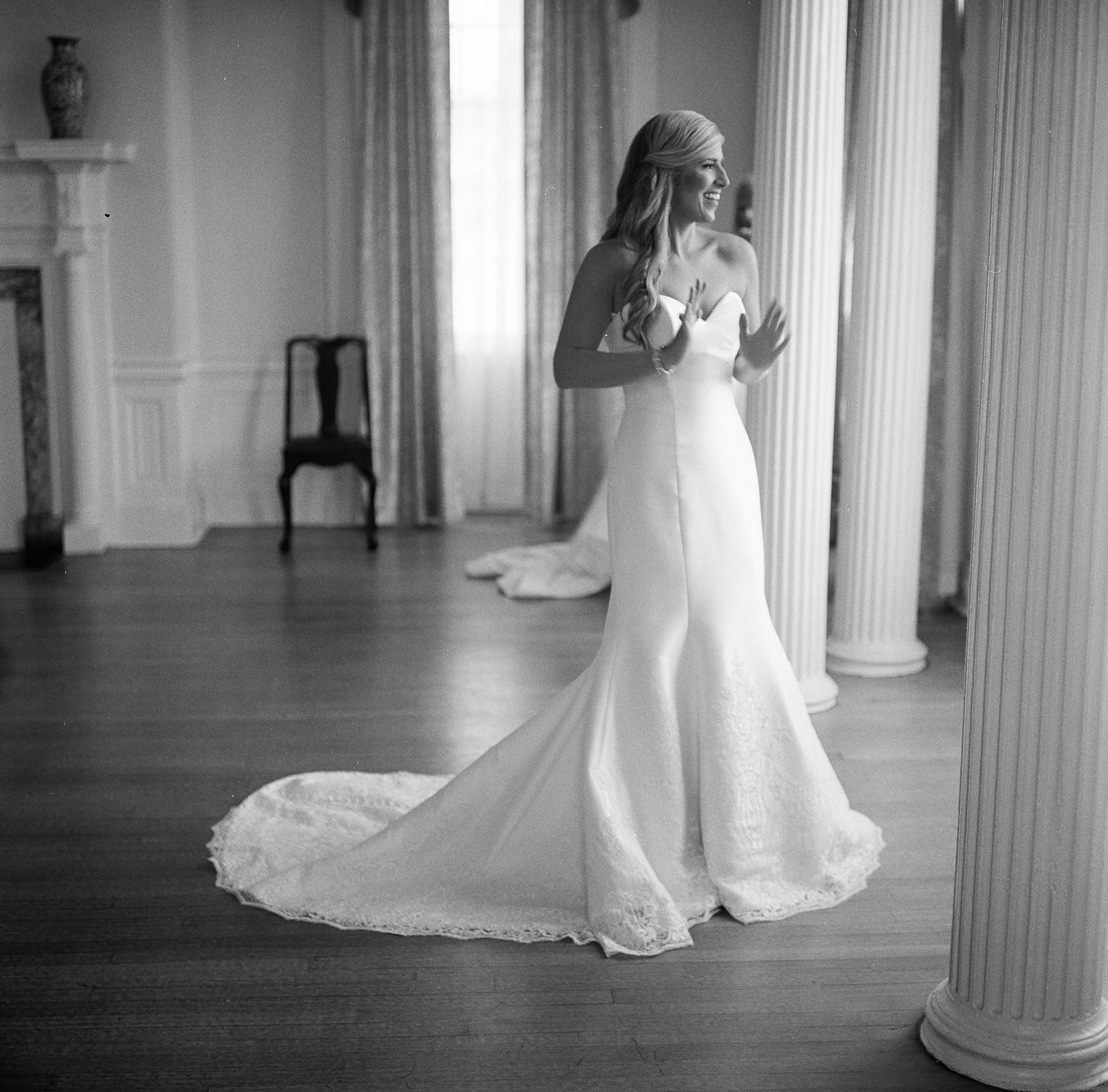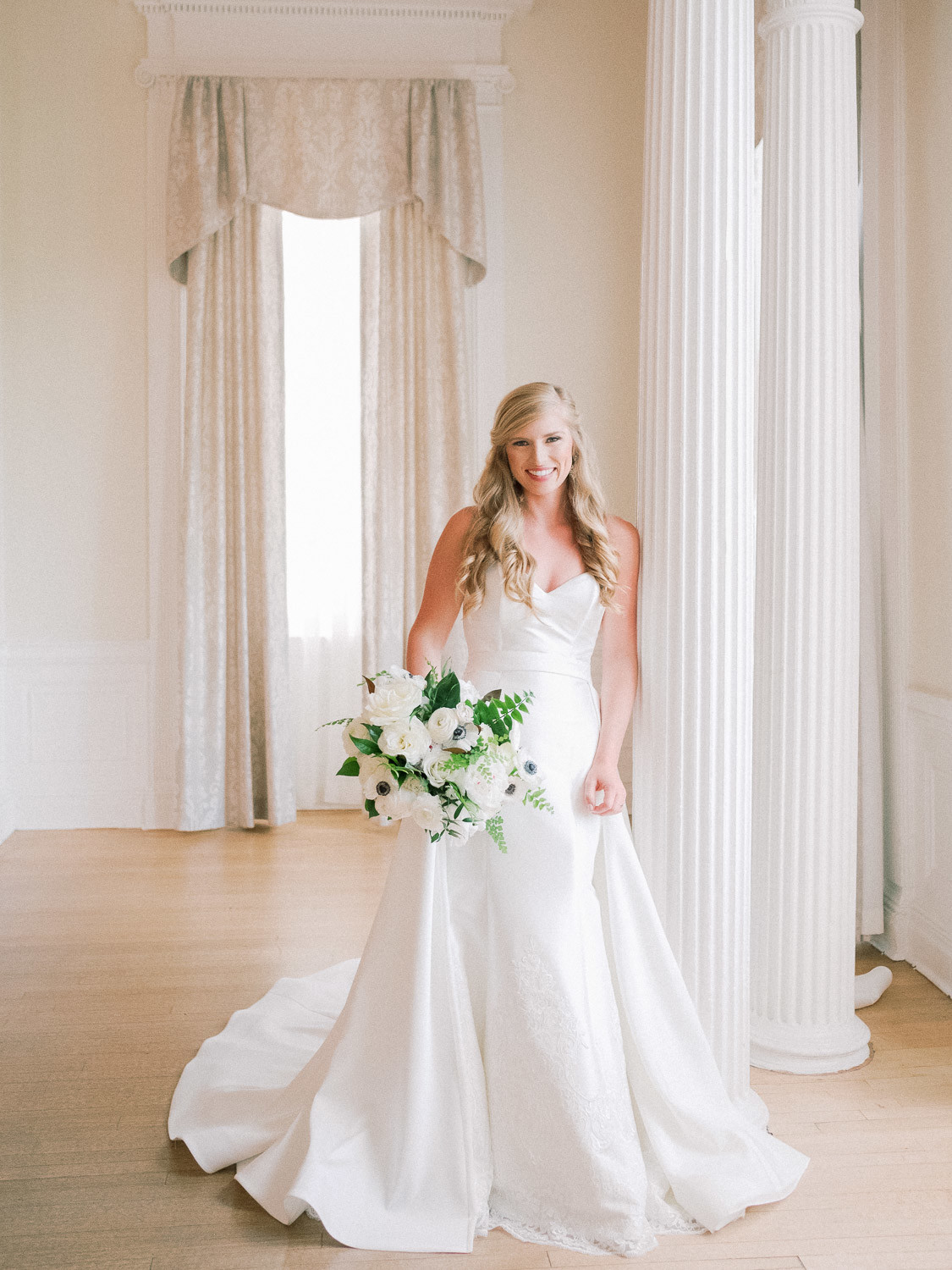 My father walked me down the aisle! I remember him taking a long pause when the church doors opened, he squeezed my hand and whispered to me, "you'll always be my darling little girl, go marry the man of your dreams."
We wanted to start the ceremony off in an upbeat and joyous celebration, so Clarke and I invited our guests to join us in a congressional hymn of "Holy, Holy, Holy". It was one of the best feelings to look out at all of our wedding guests, hand-in-hand with Clarke, signing one of our favorite hymns with everyone together right before we came husband and wife.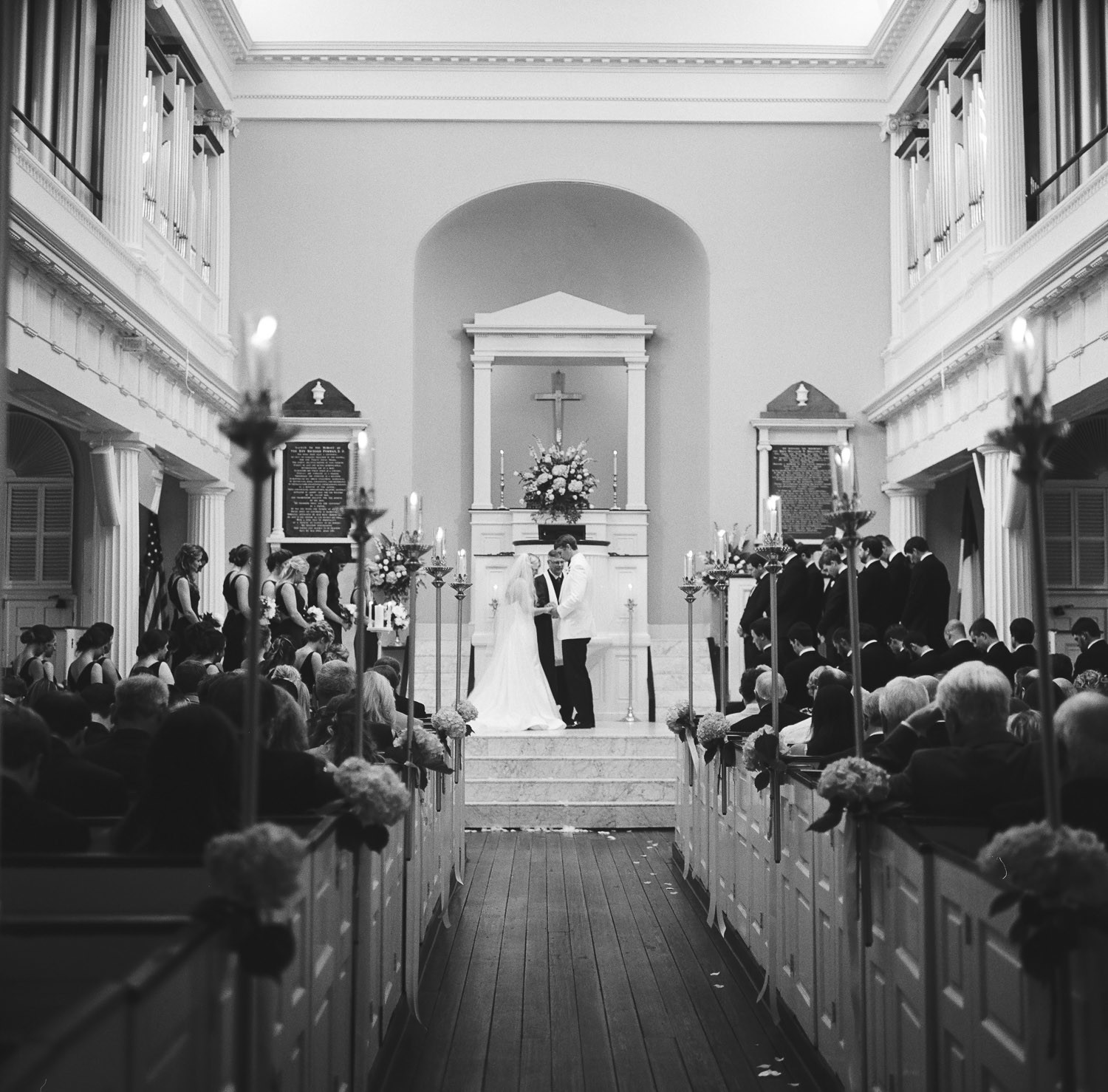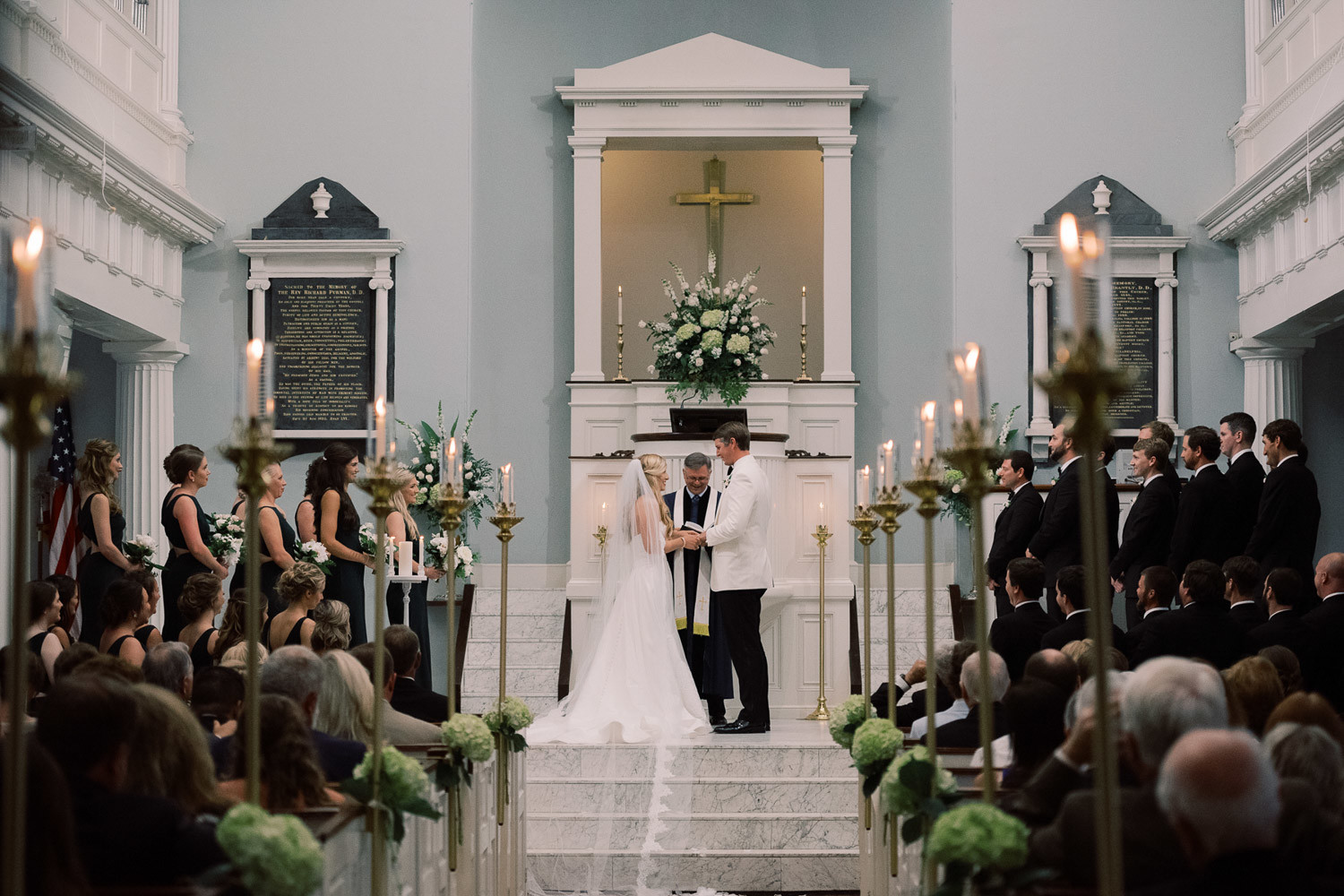 Clarke and I danced to Leon Bridges "Beyond." We're big Leon Bridges fans and this song has always been special to us, the lyrics 'my everything and beyond' also served as a special engraving in Clarke's wedding band (a surprise he came to realize after the ceremony) and as a large neon sign we had custom made for the band floral backdrop wall. After the first dances, the live band brought all the dancing tunes! I gave the band a lil' gift to be delivered the day of the wedding- a note from both Clarke and I thanking them in advance for making the dance floor a non-stop dance party- and a case of red bull for an extra spike of energy! From old to young, everyone danced the night away! As we were introduced as husband and wife walking into the main reception room, we were surprised with large Champagne confetti poppers. It was definitely an element of surprise for both Clarke and I!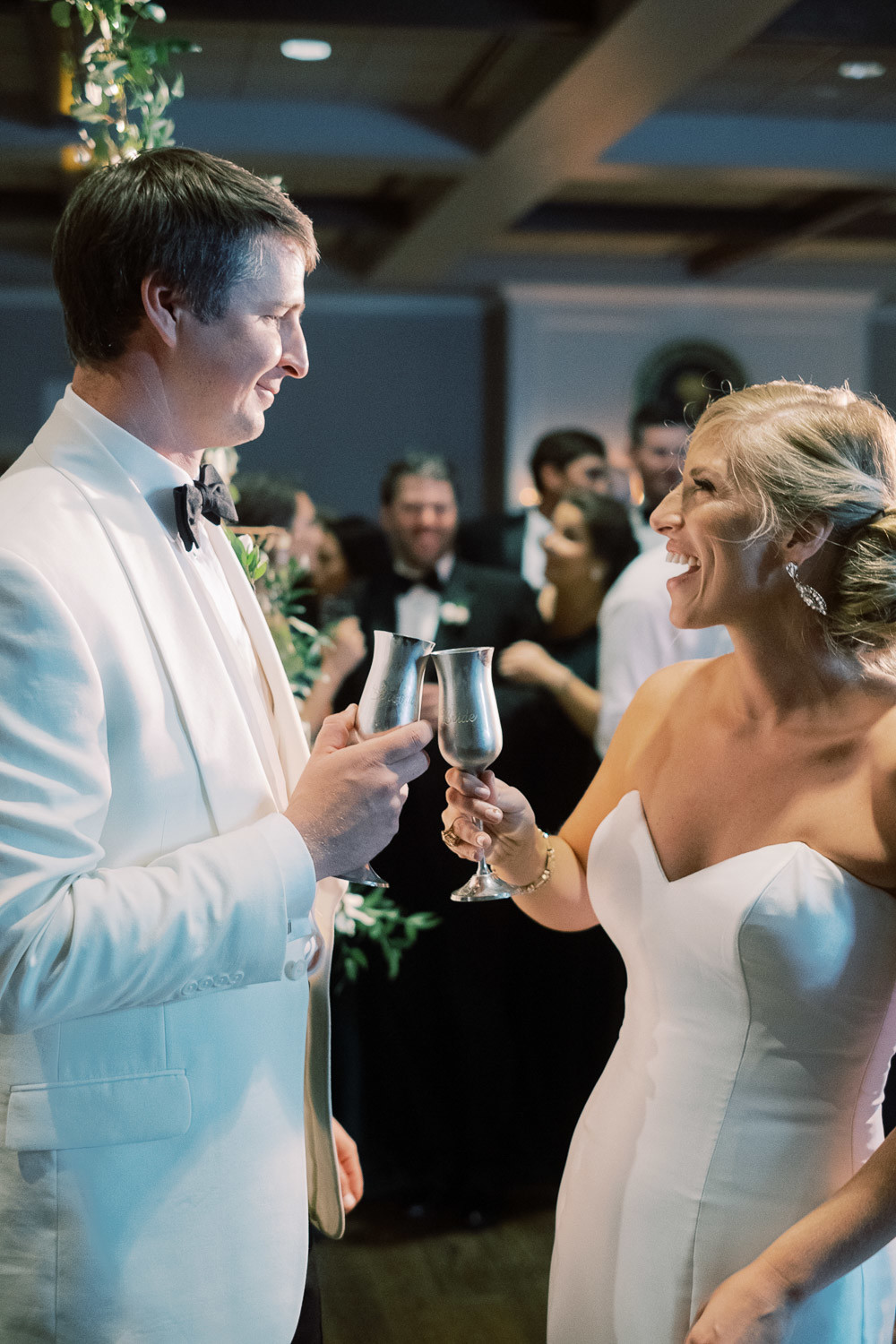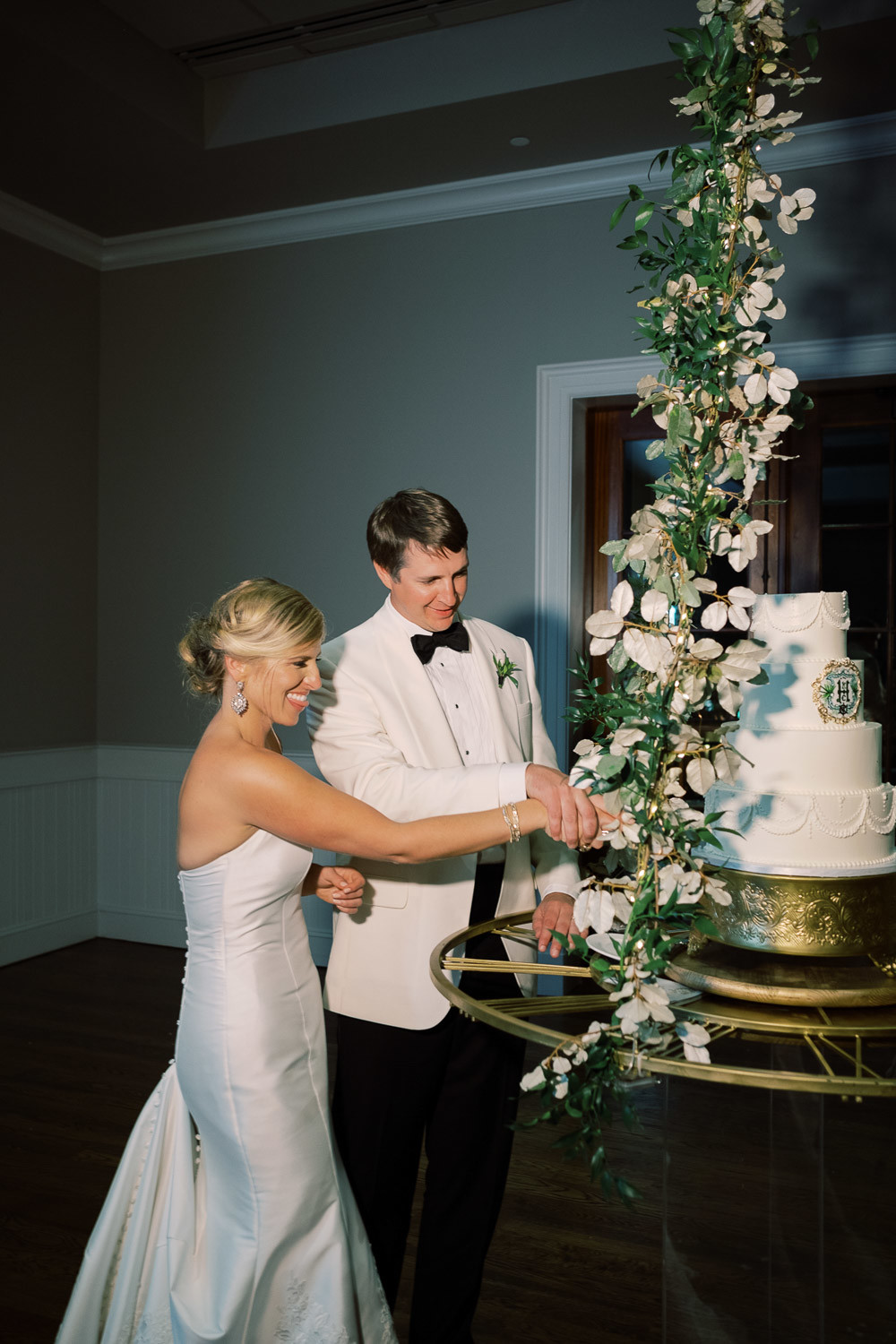 Clarke and I left on one of our family friend's Sport Fisher Yacht– The Fishwrapper II. After our exit as Mr. & Mrs. Hinson, we hopped on and cruised through the harbor to our honeymoon suite. Clarke and I sat together in the captain chair– holding each other– laughing about funny moments from the evening and reminiscing on the best night of our lives. We were married!! And it was the best feeling in the world.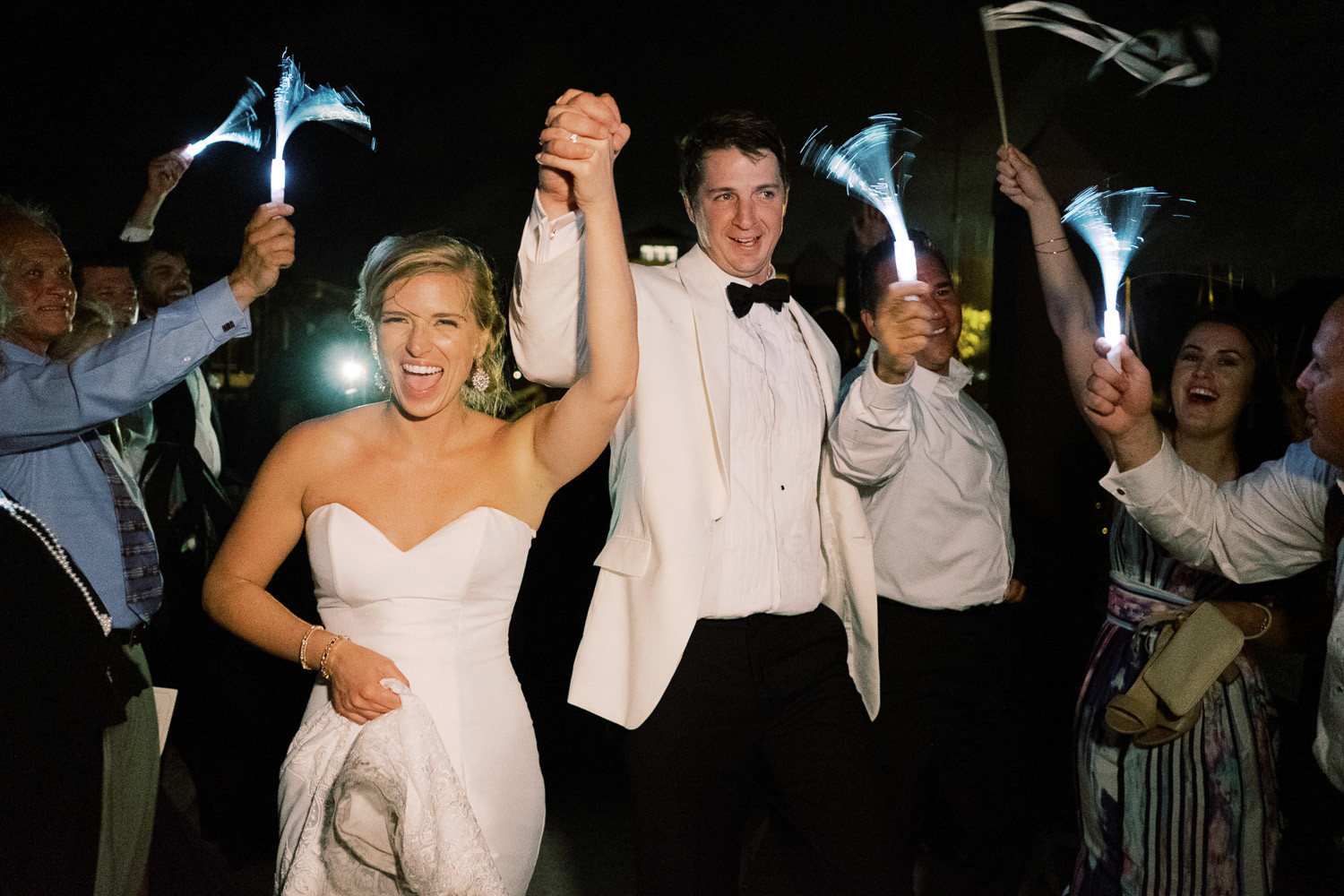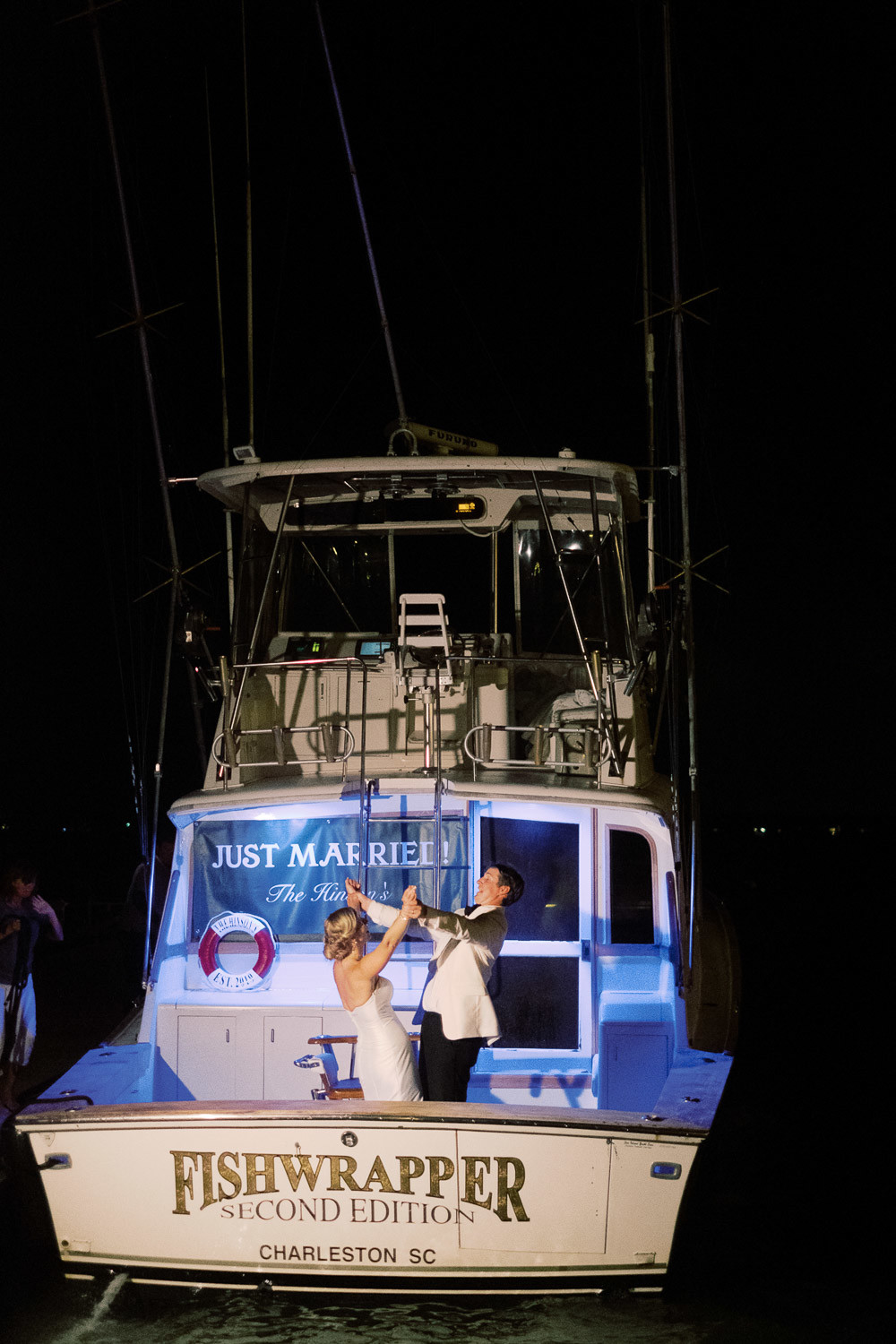 My advice to all future brides is to take a few weeks to enjoy your time being newly engaged with your fiancé. It is truly a special time and season in life so soak all the happy moments, treasure your love for one another and get ready to enjoy all the celebrations ahead.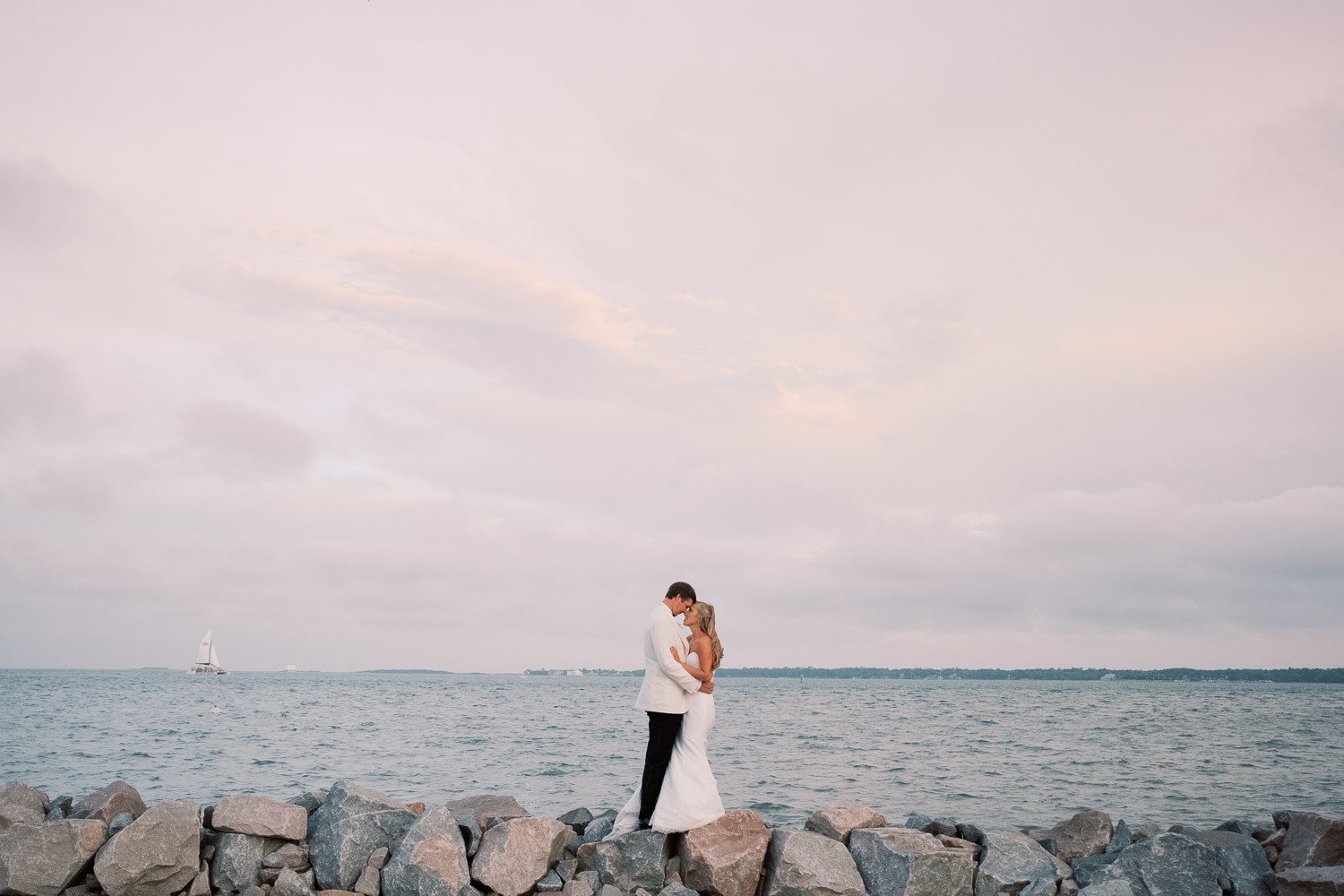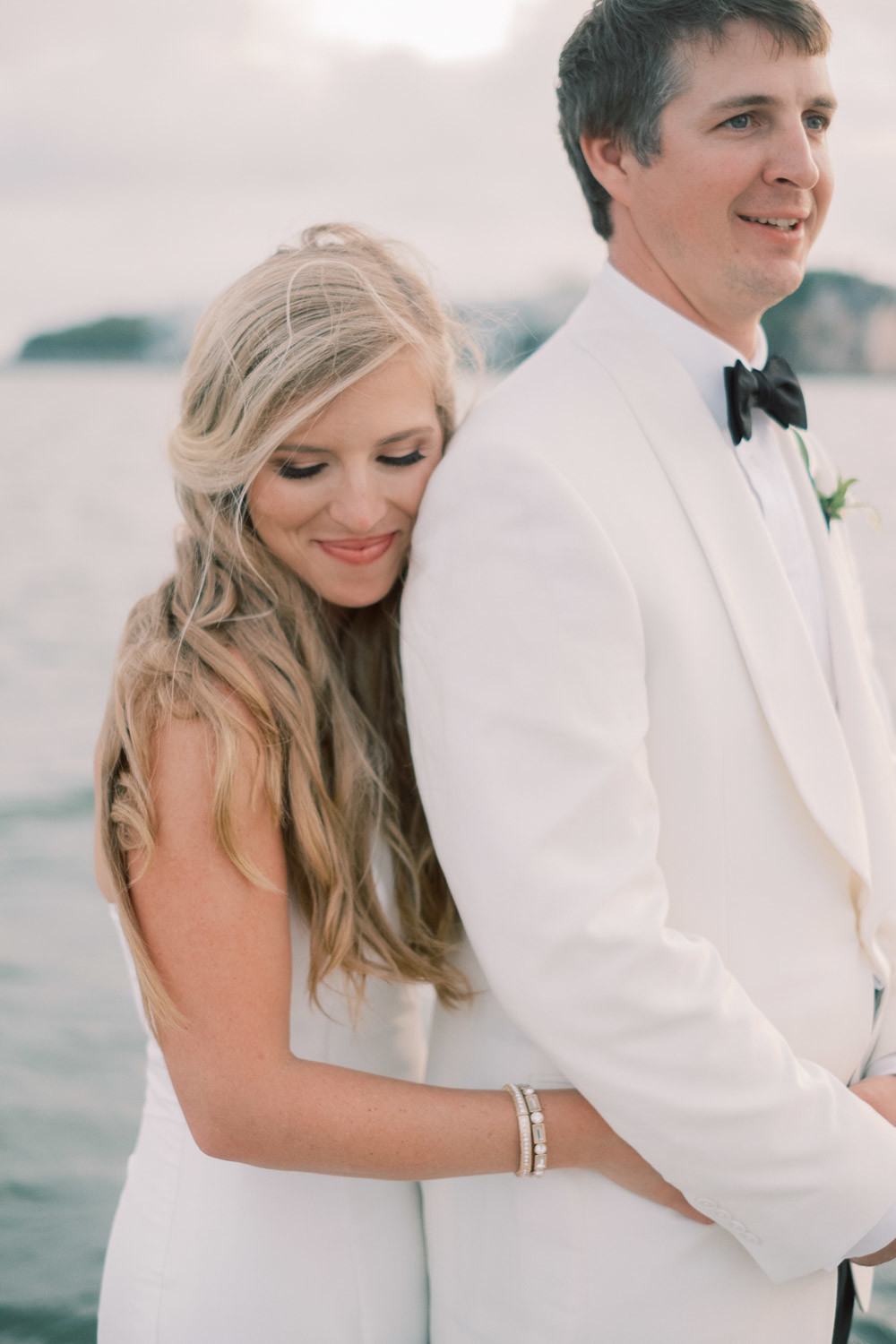 My favorite part of the whole wedding was the wedding stroll. Walking hand-in-hand with my husband, following the lead of a trumpet and the air filled with ribbon wands being waved by our wedding guests and bridal party – It was utter merriment and still makes my heart sing thinking back to that moment!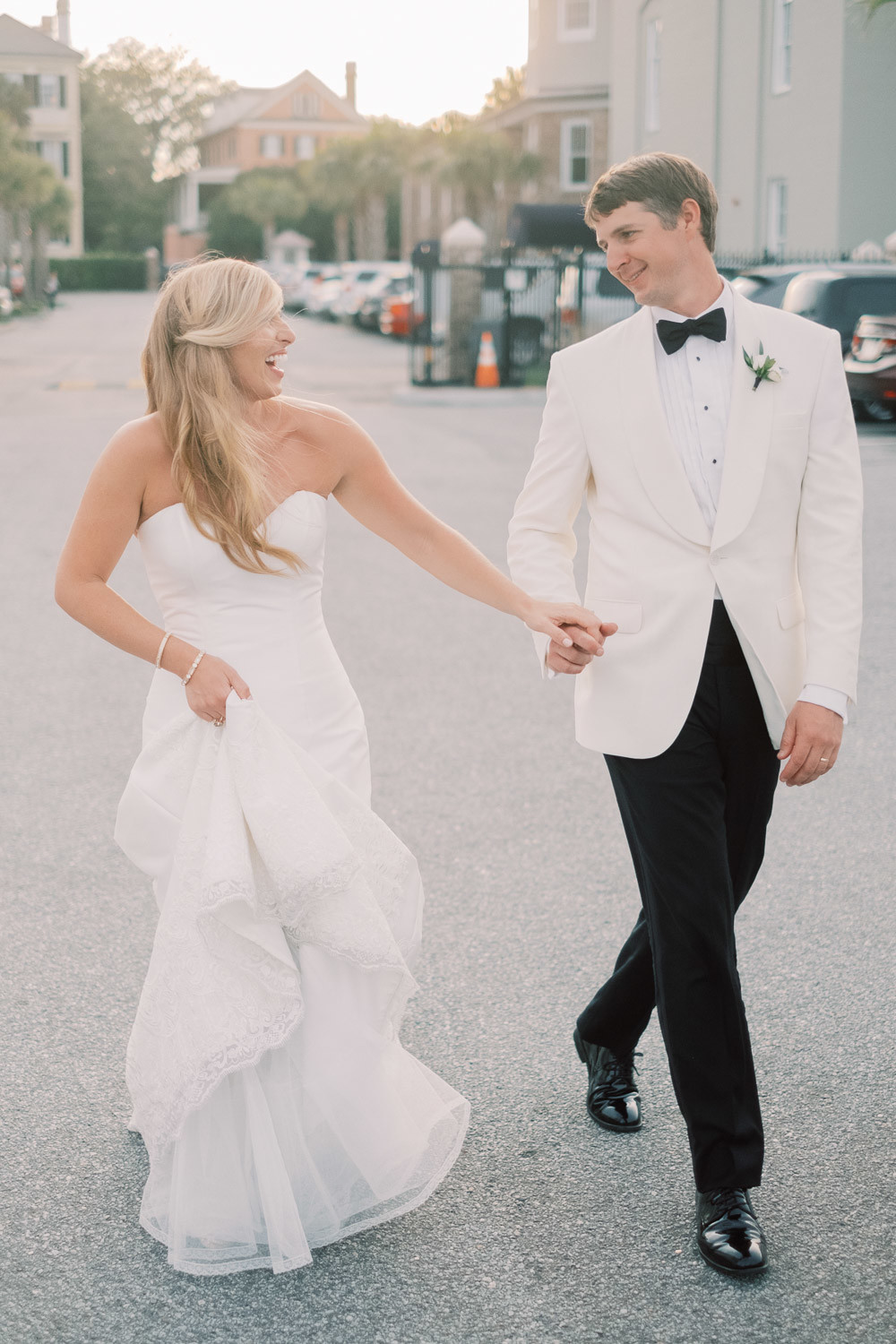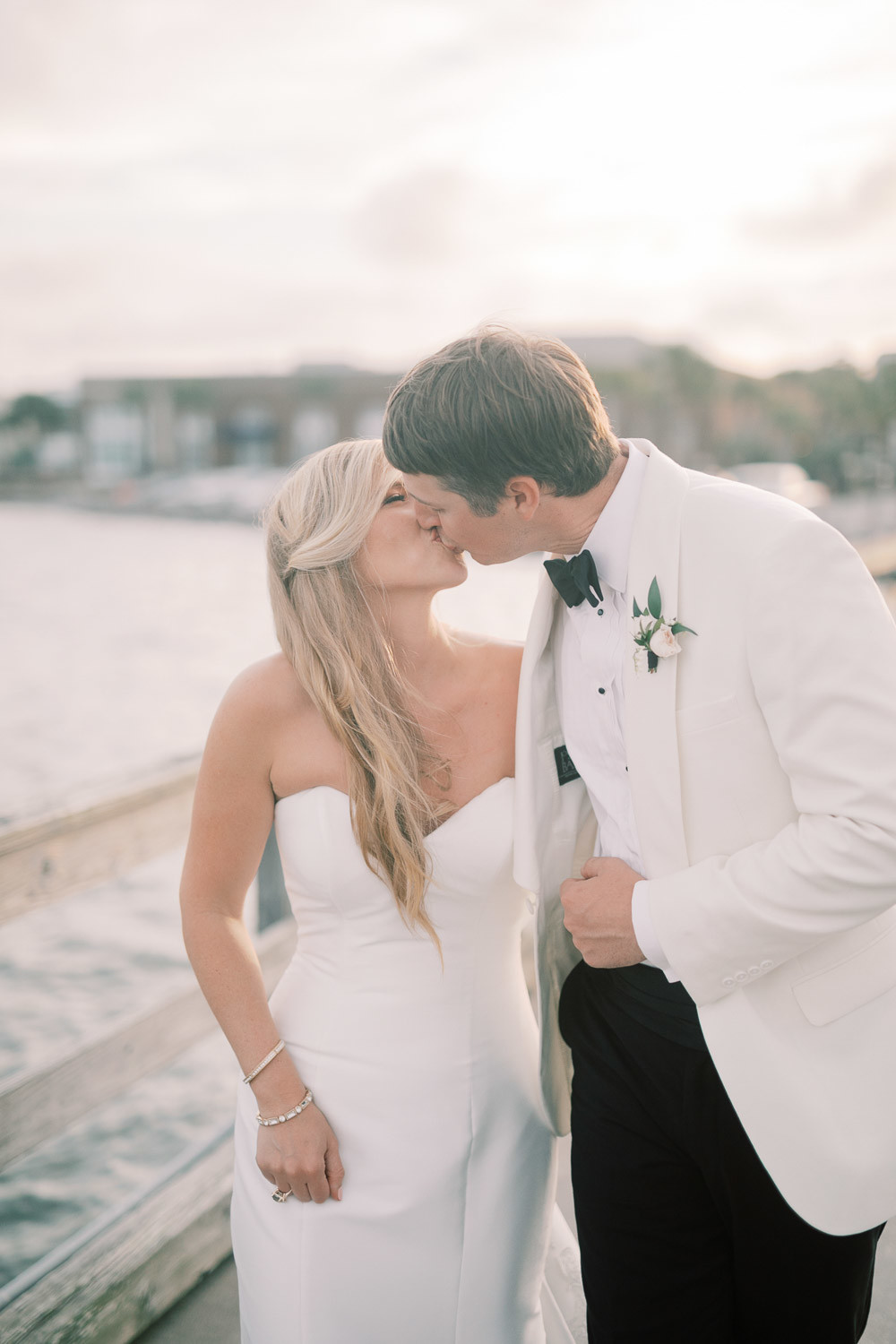 Vendors:
Ceremony Site: First Baptist of Charleston | Reception Site/Tables/Catering/Bar Service: The Carolina Yacht Club | Wedding Planner: Anna-Kate Sherrill of Parte Events & Design | Floral: Hannah Wissehr of Propagate Studio Floral | Photography: Virgil Bunao | Videography: Fig Jam Studio | Wedding Dress Designer: Allure Bridals | Wedding Shoes: Badgley Mischka | Beauty/Hair: Lashes and Lace | Bridesmaid Dresses: Theia from Bella Bridesmaid | Groom's Menswear: JoS. A. Bank | Calligraphy: Hatch Cove Designs | Linens: Event Works | Transportation: ACW Limo | Cake: ABCD Cakes | Reception Music: Emerald Empire Band | Live Painter: Jen Griffith Art